Sandeep Rao MD MBA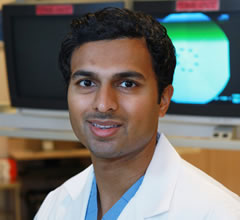 Area(s) of expertise: Vascular and Interventional Radiology, Pediatric Interventional Radiology, Pain Interventions
Medical school: Texas Tech University Health Sciences Center
Internship: General Surgery, Beth Israel Deaconess (Boston, MA)
Residency: Diagnostic radiology, Ohio State University (Columbus, OH)
Fellowship: Vascular and Interventional Radiology, Johns Hopkins (Baltimore MD)
Board Certification: Diagnostic Radiology
Hospital privileges: Providence Memorial Hospital, Sierra Medical Center, Sierra East Hospital
Medical licenses: Texas, Ohio, North Dakota, Maryland
Year joined group: 2012
Personal: Sandeep Rao MD MBA is originally from Houston and grew to like the mountains of West Texas while in medical school in El Paso. In his spare time, he can be found mountain biking in the Franklin Mountains and rock climbing in Hueco Tanks. He originally trained to be a surgeon for two years after medical school, but switched to interventional radiology after realizing the field provides the most minimally invasive alternatives to surgery. His special area of interest is interventional oncology which he specialized in at Johns Hopkins. He developed interest in oncology while doing cancer research at MD Anderson Cancer Center. After his fellowship, he underwent additional interventional training in peripheral vascular disease for treatment of aortic aneurysms, carotid stenosis, critical leg ischemia and venous disease. Additional areas of interest include minimally invasive pediatric interventions and pain management for back and bone-related pain. He has given research presentations on pediatric interventions and kidney and liver disease procedures at national radiology conferences. He is a current member of the Society of Interventional Radiology, Society for Pediatric Interventional Radiology, Texas Medical Association, and El Paso Medical Society.